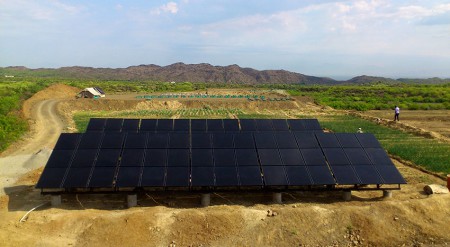 ArrayTech Technologies Pvt Ltd is a Solar Photovoltaic turnkey solution provider. Since 2009, it has been bringing the best of solar solutions and power electronics to the Indian market.
It has its operation and customer base spread across the SAARC countries, with a strong marketing presence in the neighbouring countries of Bangladesh, Afghanistan and Nepal. ArrayTech, with its sister concern Green Energy Pte, Singapore, operates in the East Asian countries of Myanmar, Thailand, Malaysia, Indonesia, Taiwan and Philippines.
ArrayTech's engineering and technical expertise enabled it to design and configure world-class products to provide trouble-free solar solutions to a wide range of customers – residences, offices, factories, hospitals, resorts, schools, corporate offices, institutions, etc.
ArrayTech is the authorized representative of RISEN ENERGY CO., LTD for marketing its PV modules in SAARC regions. RISEN is the # 1 module supplier in India with highest market share.  RISEN is among the most bankable and reputed Tier-1 Solar PV Module supplier with a customer base of over 4 GW,  well recognized by leading IPP / EPC / Govt & Private customers.
Product and Services:
Risen Energy Co., Ltd Makes Solar Panels (

Tier 1 Crystalline PV Module – Supply in China)

Solar Frontier Make Solar Panels (

CIS Technology – Japanese Make

)

Solar Designing

Engineering for Solar Power Plants
Management
ArrayTech is a professionally-managed company with renewable energy specialists from the global and Indian solar industry bringing in a wealth of knowledge and expertise. Experienced industry veterans and technocrats are heading various operations.
Vision
ArrayTech's vision is to bring the Power of the Sun to energize everyday life.