As specialists in Design & Engineering of Photovoltaic (PV) power plants, we are dedicated to:
Support customers for preparation of pre-bid technical documents
Providing pre-design and engineering support for investors with financial model on feasibility on investments
Selection of right technology
Provide engineering advisory support to developers as owner's engineer's role to make sure on the design of power plants is the best.
Provide complete detailed design & Engineering support to EPC
Design support to all capacity of plants starting from small rooftop projects till Multi-Mega Watt solar power plants.
Detailed Engineering Scope
Our Design & Engineering services include every aspect of technical documentation: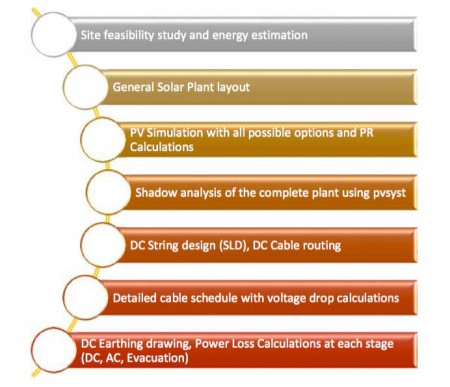 Our team consists of a consortium of Renewable Energy System Engineers, Designers and Installers, most of them are recognised as pioneers of the Solar PV Industry. Collectively, we have over 50 years of knowledge, skill and experience as consultants, advisors in the renewable energy environment.
Our quality services include:
Site selection for solar power plants
Solar resource review and preliminary assessment
Solar data gathering, interpretation and analysis
Modelling and annual energy yield estimates
Post contract engineering
We play an instrumental role in developing strategies, design and offering diverse range of services for Lenders / Owners / Developers / EPC Contractors to get seamless integration of their efforts and rewards.